In 2017 the ophidian accident was recognized by the WHO as a neglected disease that affects almost 2.5 million people worldwide annually, of which around 120,000 dies. In South America, snakebites are an unsolved public health problem, with weak health systems and a lack of data at the molecular and clinical level. This highlights the need to invest in research to understand the pathological mechanisms, develop effective pharmacological strategies, and train professionals in the health area, requiring countries to play an active role in promoting knowledge of these local pathologies.
In 2018, the Network for Snake Venom Research and Drug Discovery begins as the need to carry out multidisciplinary studies that allow the description of new genes that encode toxins, evaluate the cellular mechanisms of isolated toxins, and search for new pharmacological strategies for toxin blocking.
In 2019, it receives funding (Redbio0027 ANID/175-2019 FONDECYT) from international collaboration programs from Chile and Peru to strengthen its research and extension activities. Our Network brings together scientists and experts in clinical toxicology from South American countries who carry out research and training of human capital in the areas of molecular biology, genomics, toxin biochemistry, design of bioactive compounds, pharmacology, and procedures in snakebite accidents.
Our activities:
We identify new toxins and study the molecular mechanisms of their biological effects.
We explore biomedical (cancer and platelet-related diseases) and biotechnology applications of snake toxins.
We study the clinical and therapeutic management of snakebite accidents.
We explore new therapeutic strategies for snake accidents.
We collaborate in projects on the human-snake conflict in the Southern Cone.
We collaborate in the study of toxins from poisonous animals of medical importance.
We participate in events to disseminate and raise awareness about the snakebite accident.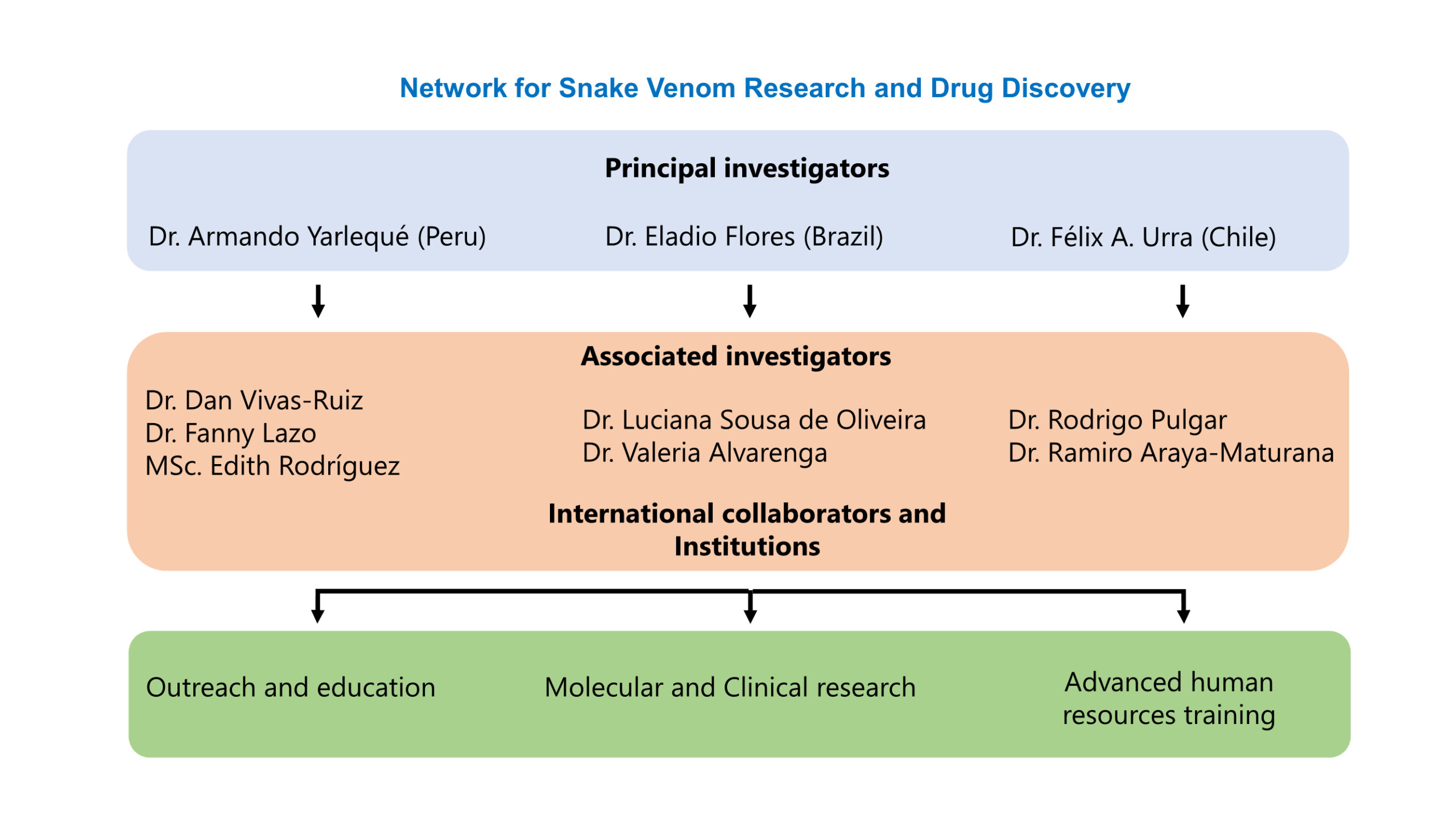 Instituciones participantes: